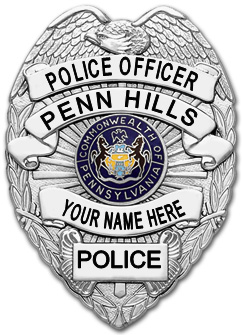 The Municipality of Penn Hills is now accepting applications to participate in an upcoming selection process for the position of Police Officer within the Penn Hills Police Department. We are currently looking to establish a new civil service eligibility list to hire from as the need arises. There is no anticipated date to hire, though the previous two selection processes resulted in the hiring of over fifteen officers.
You can download the application, and other necessary forms by clicking here, or they can be picked up at the municipal building, room 204, during regular business hours. Completed applications and forms must be received by 4:00 PM on Tuesday, April 10, 2018, along with a non-refundable $100.00 filing fee, payable by check or money order to the "Municipality of Penn Hills."
The physical agility test and scored written examination have been scheduled for Tuesday, April 17, 2018, at 10:00 AM. The tests will be conducted at the Allegheny County Police Training Academy, at 700 West Ridge Road, Allison Park, Pennsylvania 15101. You must report for testing on time.
Click here to view the requirements to participate in the selection process, and here to see an outline of the job benefits. We also strongly encourage potential applicants to thoroughly read through the rest of our police officer employment section on our website. We outline, in great detail, what you can expect to go through during the selection process, and what we expect of you as a potential candidate for employment, including specific criteria that may or will disqualify you from the process.
We value the importance of hiring the best possible candidates for our agency, particularly those who display honesty and integrity, as this job places you into a position of public trust, and we owe the public the very best, as that is the level of service we aim to provide.
We thank you for your interest in our department, and we look forward to seeing all of the candidates at the testing site on April 17th.