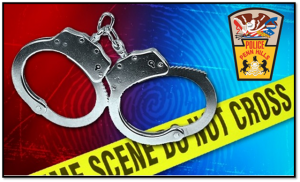 This past Monday (02/08/2016) at approximately 6:37 PM Penn Hills police officers were called to a house in the 100 block of Vincent Drive for a serious domestic disturbance.  Officer Patrick Ford was the first to arrive on scene and was met outside by a frantic woman who told him that a juvenile female was being held inside an upstairs bedroom with an adult male.
Upon receiving the information, Officer Ford entered the residence and could hear a young girl screaming for help upstairs.  He proceeded upstairs and forced entry into a locked bedroom, discovering an adult male inside who was attempting to sexually assault the female victim.  The male was subdued and placed into custody.  He was charged with multiple felony violations and lodged at the Allegheny County Jail.
Officer Ford's quick response to the call, and his willingness to act without hesitation, choosing not to wait for additional police units, prevented the rape of a twelve-year-old girl.  Congratulations Officer Ford on a job well done!
Penn Hills Police Department Incident #1600002044