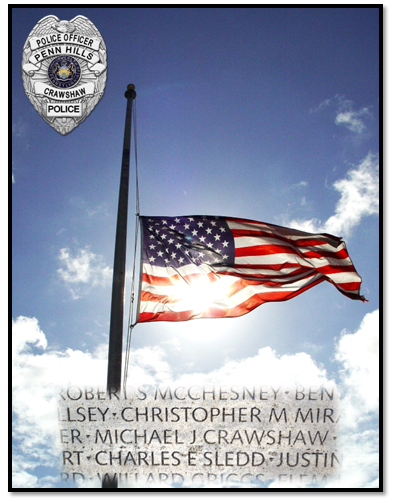 "Carved on these walls is the story of America, of a continuing quest to preserve both democracy and decency, and to protect a national treasure that we call the American dream."
A quote by President George H.W. Bush that's engraved on the wall at the National Law Enforcement Officers' Memorial in Washington DC. It speaks volumes. A part of that American story he referenced took place on Sunday, December 6, 2009 here in Penn Hills.
Carved into that very wall is the name of a young man who exemplified the meaning of the words "decency" and "protect." Michael Crawshaw gave his life while protecting the residents of this community as a police officer. His story is one of extraordinary courage, honor, integrity and human decency.
Seven years ago on today's date Michael put on his Penn Hills police uniform and began his tour of duty on the afternoon shift. He would never make it home that night. The call he bravely answered would be his last, and will never be forgotten.
We reflect back knowing that the American dream Michael helped to protect was also one he was able to share in, and that was fulfilling his dream of being a police officer. We are grateful that Michael was able to be a part of our department.
Today we offer our deepest sympathies, thoughts and our prayers to Michael's family and his friends. Michael's legacy here is an inspiration to us all. He is truly missed.