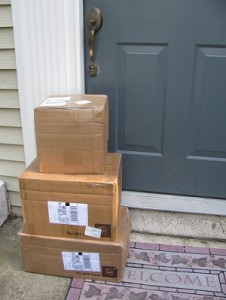 The Penn Hills Police Department would like to remind residents to beware of thieves that target delivered parcels left by courier companies and the United States Postal Service (USPS). 
The holiday season is quickly approaching and many people choose to do their Christmas shopping online, and have their purchases shipped directly to their homes. 

Each year police departments across the country see in an increase in thefts of delivered packages during November and December.  To reduce the risk of parcel theft, we recommend that you take the following steps if you're having items delivered to your home:
Use the package tracking features offered by the USPS and couriers such as FedEx, UPS and DHL;
Try to be available during the scheduled date of delivery;
Request that the package be signed for upon delivery (couriers will not leave items that require a signature);
Purchase delivery insurance for items being shipped;
Purchase items with a credit card if possible.  Credit card companies are more likely to refund your purchase in the event of a theft; and
If you cannot be home for the delivery, check with a trusted neighbor to see if they are willing to accept your package.  If so, leave a note for the courier to deliver the package to your neighbor's address.