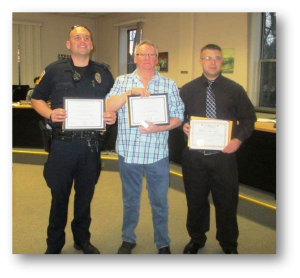 Two Penn Hills police officers were honored at a recent council meeting for their role in helping to save a local man's life by providing CPR during a medical emergency. Officers Geoffrey Agreen and Joshua Martinelli received recognition for their actions that helped save the life of Penn Hills resident Vincent Hogan.
On January 22, 2017 at approximately 7:00 PM Mr. Hogan was celebrating his 65th birthday at his home here in Penn Hills. He was watching a football game and collapsed next to a couch. His family recognized the dire emergency, and his son David began CPR, with the assistance of a family friend. Other family members called 911. The call-taker at the Allegheny County Emergency Services 911 Center provided valuable information to first responders, while keeping the caller on the line until they arrived.
Officers Agreen and Martinelli were the first to arrive on scene and took over CPR. Penn Hills Emergency Medical Services personnel arrived approximately one minute later and Paramedics Lorenzo Garino, Augustine Zampitella, Bret London and Devin Cummings began to work on Mr. Hogan, who was in cardiac arrest, meaning he was not breathing and had no pulse.
The paramedics continued CPR, initiated IV access with drug administration, performed multiple defibrillations (electric shock), and intubated the patient to secure his airway. They were able to acquire return of spontaneous circulation and continued advanced cardiac care while transporting the patient to UPMC East Hospital in Monroeville. Mr. Hogan was quickly seen by an emergency physician and escorted to the Cardiac Catherization Lab. He spent a few days in the Intensive Care Unit and had an internal cardiac defibrillator placed. He was later discharged from the hospital and will require open heart surgery within the next few months.
Mr. Hogan, along with his family and friends, attended the Penn Hills council meeting to express their appreciation for all who responded and cared for him. All parties received recognition from the Sudden Cardiac Arrest Association, Penn Hills Mayor Sara Kuhn, and members of Penn Hills Emergency Medical Services.