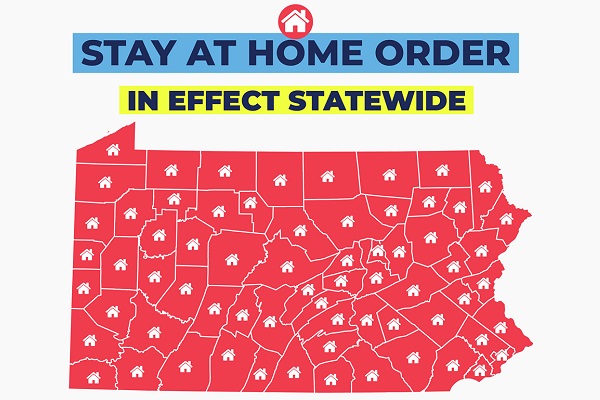 Please read the "Stay at Home Order" issued by Governor Wolf and the Commonwealth of Pennsylvania. Full details of the order are viewable at pa.gov/COVID-19. The order took effect at 8:00 PM on March 23, 2020 and will now last until April 30, 2020. The order affects all residents of Pennsylvania.
We ask that residents be mindful of the "Stay at Home Order," and understand that this is an unprecedented situation we are all experiencing right now. Those who are most at risk (the elderly and persons with underlying health conditions) from the COVID-19 virus may, and more than likely, comprise our own family members, friends, and neighbors. It is important to follow the CDC guidelines that help prevent the spread and transmission of the COVID-19 virus, including frequent hand washing and maintaining social distancing practices, which consist of keeping a distance of at least six feet from others in public settings.
If you have questions about the "Stay at Home Order," COVID-19 symptoms and local statistics, or anything related to the current local emergency, please contact the Penn Hills Emergency Operations Center by calling (412) 342-1199. The center operates around the clock.
If you can afford to, please consider the many local takeout food options available here in Penn Hills. Our restaurants are counting on your patronage right now more than ever.
Penn Hills police officers will continue to provide all essential policing services to residents and visitors of the municipality. Despite some rumors circulating, we are not conducting random traffic stops to determine compliance with the "Stay at Home Order." Regardless of which walk of life you hail from, we are all in this together, and we look forward to working with our fellow citizens to overcome this world crisis and resume our normal lives as soon as possible. Thank you and be safe!