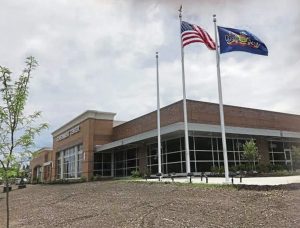 We are pleased to announce that we are now accepting applications for the 2018 Citizens Police Academy – Fall Session class. Class size is limited to twenty (20) students, with preference given to Penn Hills and Monroeville residents. Application packages are now available at the Penn Hills and Monroeville Police Departments, or they can be downloaded from this site by clicking here.
Please complete your application and other necessary paperwork/checks as soon as possible to confirm your spot in this class. Many local law enforcement agencies offer Citizens Police Academy classes at various times throughout the year; however we believe our program is unique, offering students a chance to drive an actual police car on a "skid pad," and to participate in live firearms training on a state-of-the-art shooting range maintained by the Monroeville Police Department and the FBI.
For additional information on the program, and the requirements to apply, please visit our Citizens Police Academy page. The first class will be held on Wednesday, September 12, 2018, at 7:00 PM at the brand new Penn Hills police station. Classes will continue each week through November 7, 2018. There will be no class held on Halloween.